Birds of Oklahoma
---
Featured Image - Winter 2000
---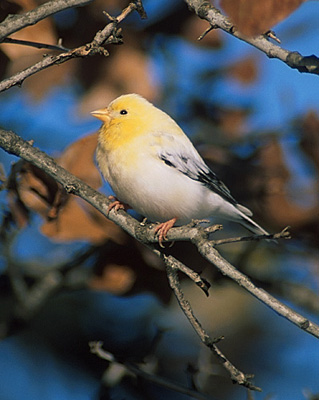 Partial Albino American Goldfinch
For years I have heard about but have never seen an albino species of any kind in Oklahoma. We recently experienced a heavy snow followed shortly thereafter by an ice storm. The ice remained, covering the ground for a week afterward. With the ground covered with ice and snow, most ground foraging species were hard pressed to find enough to eat.
We took advantage of their plight by keeping the feeders stocked and an ample supply of various seeds, cracked corn, and peanuts spread around the feeders in our back yard. Activity there was quite the frenzy the whole time. I spent many hours observing and photographing birds rarely seen in these parts. Even very shy birds will come in when hungry.
Late in the week, I was photographing Fox Sparrows when I noticed a whitish bird land at the finch feeder. It was a partial albino American Goldfinch. Slowly, I eased to within range while he gorged on the thistle. I waited over 30 minutes, hoping he would fly to a nearby limb and afford me the opportunity for an isolated image of just the bird without the feeder in the frame. Finally he obliged, and I got half a dozen quick frames before he flew off. It was a unique experience, and one I will not soon forget.
Technical Data
| | | | |
| --- | --- | --- | --- |
| Camera | Nikon F5 | Lens | 600mm F/4 |
| Flash | none used | Support | Gitzo CF1548 |
| Film | Fuji Velvia | Filter | UV Haze |
| Exposure | 1/160 @ F6.3 | Mode | Manual |
---
Home
About Bill Horn
Raising Bluebirds
My links
Photo Gallery
Featured guest page